SYSTEMIQ encourages all employees to take action on topics they consider important. A certain amount of our work time can be attributed to drive own initiatives, being it internal agendas or engagement with the public. The "Walk the talk" working group is one of these Associate-driven initiatives in SYSTEMIQ, with currently 11 members from the Munich and the London office.
The mission is simple: We want to live the change that we wish to see in the world.
Living a "sustainable lifestyle" can be quite challenging. We aim to trigger and nourish the conversation about actionable sustainability, and to encourage sustainable behaviour both in our business-related and our personal lives. We approach the topics that govern our lives on a daily basis, and develop guidelines and suggestions to make them more sustainable. Most importantly, we try to bring others along the way. Below you will find a summary of the Walk the Talk achievements since the formation of our group in 12/2016.
This is only the beginning of a journey and we acknowledge that we still have a long way to go. We have many more ideas and actions in the making. If you have comments or ideas we should consider, drop us a message and share your experience with us!
CARBON FOOTPRINT
We started with an analysis of our business-related footprint. Not surprisingly, travel is the main driver of our emissions; followed by the office footprint. Monitoring and reporting are the necessary first steps to raise awareness and to create sensitivity for emissions. We presented our footprint to the whole company and challenged ourselves by setting an ambitious target of reducing the emissions that are unavoidable. We will continue to measure and report on our emissions and the progress of meeting our targets.
Travel policy
In a next step, we drafted guidelines for a more sustainable travel behaviour, which was incorporated in our travel and expense policy.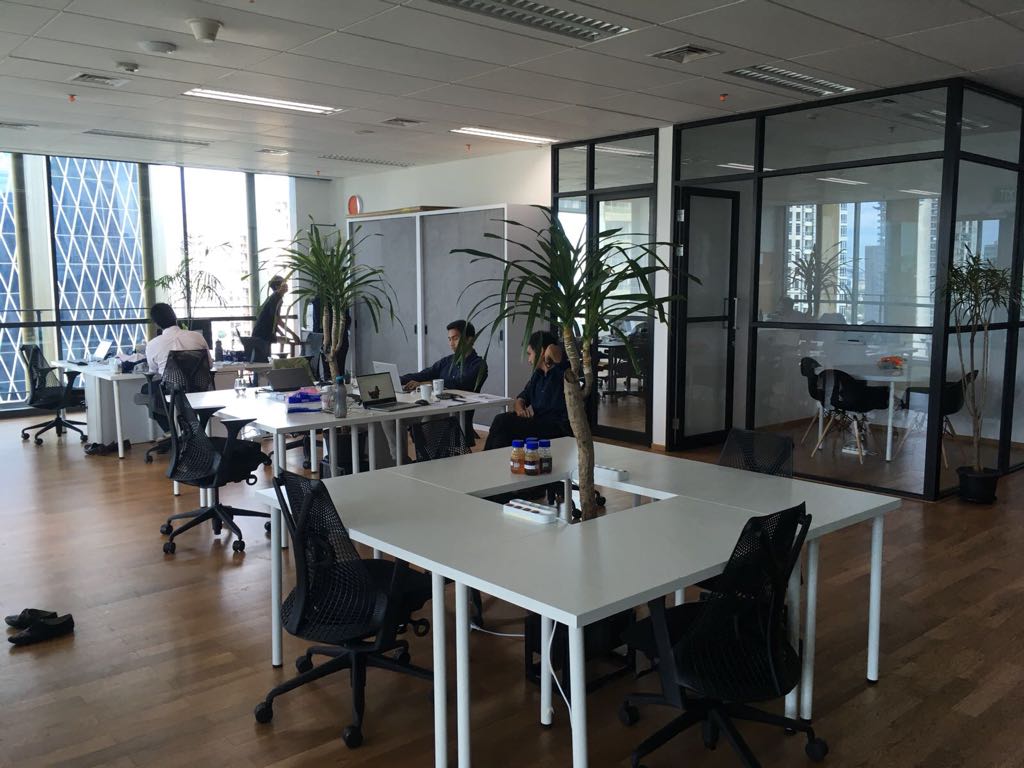 OUR officeS
In 2017, we moved into our own offices in Munich, London and Jakarta. To make them as sustainable as possible from the start, we developed our own office design guidelines and worked hard to apply these principles. Visit our offices or have a look at this poster to see what we did!
FOOD
Another inevitable but certainly reducible source of our emissions is the food we consume. In conversations with colleagues and friends we discovered that the general perception of sustainable food consumption is mainly linked to "healthy" foods. How our food is produced and the resulting environmental backpack is quite complex and therefore little understood. To de-mystify this huge topic, we launched a monthly newsletter called #LoveFood, which is distributed internally and on our blog.
CARBON OFFSET
Despite all reduction efforts, not all emissions can be avoided. For these emissions, we have implemented an offsetting scheme with Plant for the Planet. For every ton of carbon-equivalents that we emit we plant 2.5 trees, purchase Certified Emission reductions and support the Plant for the Planet climate ambassador educational program for children, that teaches about topics like climate change and social responsibility.
Behavioral change
Good choices are enabled by two requirements: a certain level of information, and a set of alternative options. In order to facilitate our employees to make smart and sustainable choices, we try to lay these foundations: We focus on transparency and clear communication (for example through the policies, newsletters and blog posts mentioned above), and on creating sustainable alternatives to the business-as-usual scenario in our working life. Here are a few examples:
PERSONAL FOOTPRINT OFFSET
On a voluntary basis, our employees can offset their personal carbon footprint through a deduction of their payroll. All funds raised this way are added to the contributions we make to Plant for the Planet in order to plant more trees.
SUSTAINABLE SUPPLIERS
We offer our employees two options for their business phones: Refurbished iPhones or Fairphones, based on their preference for Android or iOS. Both offer alternative options that are somewhat aligned with our vision: Closed loop cycling, transparent supply chains and healthy materials.
REDUCING MEAT CONSUMPTION
The environmental impact of animal products in our diet is well researched and proven. Reducing meat consumption can limit our dietary emissions by up to 70%. We therefore offer vegetarian meals at our internal events and conferences per default. Anyone persisting on a meat diet can opt-in for a different plate – after all, we respect that dietary preferences should remain a conscious personal choice.
EMPLOYEE HEALTH AND WELLBEING
An organization can only thrive when its people are happy and healthy. In 2019, the Walk the Talk Group will work out a set of activities to engage our employees on this topic.