Achieving
Circularity
Synthesis Report
PLASTIC ECONOMY IN NORWAY
Reasons for writing this report
The world is facing a critical plastic pollution challenge that requires it to deepen its understanding of the root causes of plastic waste and define pathways to eliminate it at a global scale. By 2024, a global treaty is expected to be negotiated by UN member states that enables a thriving circular plastic economy capable of eradicating plastic pollution.
Norway has the ambition to continue to be a frontrunner on addressing this challenge, and – together with Rwanda – is leading the High Ambition Coalition to End Plastic Pollution,
committed to developing a successful global plastic treaty. The goal of this study is to lay out a pathway that can accelerate Norway's own transition towards a low-emissions, zero-waste circular plastic economy by 2040. This is done through an in-depth analysis of different sectors of the plastic system and identifying tailored roadmaps with strategies that design out waste and pollution, eliminate unnecessary production and consumption, keep products and materials in the economy for longer, safely collect and dispose of waste that cannot be economically processed, and dramatically reduce greenhouse gas emissions.
This report provides a synthesis of the two studies produced in this series: "Achieving Circularity for Single-Use Plastics" and "Achieving Circularity for Durable Plastics". The former focuses on consumable applications of plastics in Packaging and Household Goods of a single-use nature with lifetimes of less than a year. The latter focuses on durable plastics in five sectors: Construction, Textiles, Electronics & Electricals, Automotive, and Fishing & Aquaculture.
Together, these studies cover ~80% of Norwegian plastic consumption, making it one of the most holistic views of a national plastic system presented to date.
Plastics have been instrumental to the growth of all sectors of Norway's economy, but today's system, considering all in-scope sectors, is around 78% linear, meaning 78% of plastic waste is either incinerated, landfilled, or left in nature.
The objective of this Synthesis Report is therefore to paint a picture of the most ambitious levels of circularity and greenhouse gas emissions (GHG) abatement that could be realistically achieved by the Norwegian plastic system by 2040, providing each individual sector with a clear "North Star" to aim for.
The analysis underpinning this report was supported by 16 Norwegian and international experts, and the Norwegian consultancy Mepex.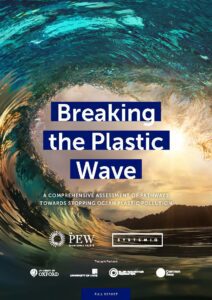 It builds on the 'Breaking the Plastic Wave', and methodology published by Systemiq and The Pew Charitable Trusts in 2020. Norway is the first country to apply this methodology to such a comprehensive scope of plastic sectors.
Our hope and objective is that this report can strengthen collaboration along the value chain, both in Norway and across the region, and guide policymakers, industry leaders, investors, and civil society in preparing the most effective initiatives to achieve a zero-waste circular plastic economy aligned with Norway's nationally determined emissions reduction targets.
This Synthesis Report and the two studies in the "Achieving Circularity" series set out to achieve the following objectives:
A
To produce a data-driven scenario analysis for the entire Norwegian plastic system to inform strategies and resource allocation for all stakeholders in the value chain.
B
To provide evidence-based recommendations on priority areas needed to transform the Norwegian plastic system.
C
To strengthen partnerships and collaboration between stakeholders across the value chain, in both the public sector and civil society, by providing a quantitative reference point to facilitate evidence-based conversations in order to explore different strategies for achieving a better plastic system in Norway.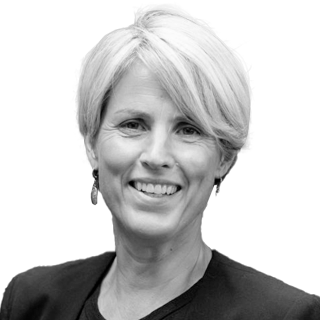 Cecilie Lind
CEO
Handelens Miljøfond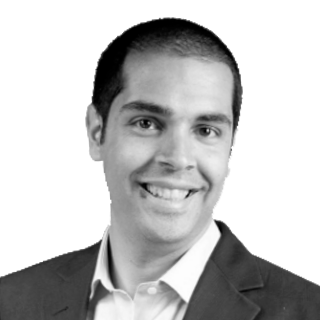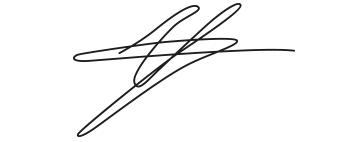 Yoni Shiran
Partner
Systemiq
THE BIG PICTURE
(For Single-Use and Durable Plastics)
Plastics have been indispensable for the growth of the seven sectors, but this has come at a high cost. ​
Today, the use of plastic across the seven sectors​ (Packaging, Household Goods, Construction, Textiles, Electronics, Automotive, Fisheries & Aquaculture) is:
Fossil based virgin feedstock
of total equivalent
Norwegian emissions*
…and if nothing changes the impact in Norway will worsen by 2040:​
Increased waste generation
Increased virgin feedstock production
70% circularity can be achieved under a System Change Net-Zero Scenario…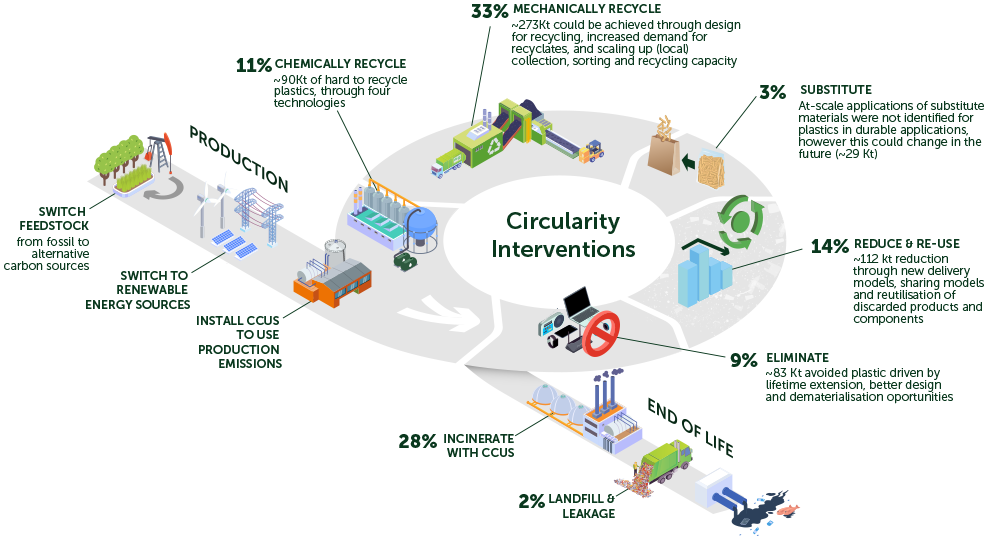 …while reducing environmental impacts and limiting the cost for society **
*total lifecycle emissions related to the use of plastic in Norway across the seven sectors divided by total Norway emissions​.
**vs 2020
***Total cost per tonne of annual demand for plastic utility​​​
Five enabling conditions
can accelerate the shift to a low-emissions circular plastic economy:​
1
Policies & Financing Model​
Set the right standards and incentives for design, use and end-of-life management from both a waste and GHG perspective, whilst enabling a positive business case.​
2
Technology & Innovation​
Prove sharing and reuse models, invest in advanced sorting technologies, improve (and communicate!) quality of recyclates, consider ramping up chemical recycling domestically, and pioneer low emissions technologies​.
3
Cross Value-Chain Collaboration
Guarantee cooperation regarding design, production and end-of-life management from a waste and GHG perspective, mainly with Nordic countries and the EU.​
4
Consumer & User Engagement​
Ensure industry champions & large users demand sustainable models and designs from manufacturers and emphasise the link between plastics & GHG emissions.​
5
Labour Force Reskilling​
Enable professionals, including from the oil and gas sector, to focus on sustainable domestic and end-of-life production
About Handelens Miljøfond
(Norwegian Retailers' Environment Fund)
Handelens Miljøfond is Norway's largest private environmental fund, and Norway's most important measure for complying with the EU Plastic Bags Directive. The fund supports national and international projects that reduce plastic pollution, increase plastic recycling, and reduce the consumption of plastic bags.
The fund's vision is to promote a circular plastic system and a pollution free environment. In 2021, Handelens Miljøfond launched "Achieving Circularity" together with Systemiq and Mepex. Part 1 of this study focused on post-consumer plastic packaging and non-electrical household products.
Handelens Miljiofond website
About SYSTEMIQ
SYSTEMIQ is a B Corp founded in 2016 to drive the Paris Agreement and the Sustainable Development Goals by transforming markets and business models in five key systems: nature and food, materials and circularity, energy, urban areas, and sustainable finance.
In 2020, SYSTEMIQ and The Pew Charitable Trusts published "Breaking the Plastic Wave: A Comprehensive Assessment of Pathways Towards Stopping Ocean Plastic Pollution," an evidence-based roadmap that shows how industry and governments can radically reduce ocean plastic pollution by 2040, upon which this report is based. The findings of our analysis were published in the peer-reviewed journal, Science.
Contact Systemiq
About Mepex
Mepex is a Norwegian independent consultancy firm specializing in waste management, recycling and circular value chains. The aim is to be a catalyst for change, contributing to making the circular economy a reality through resource-efficient and climate-friendly solutions.
Mepex combines analytical competence with extensive experience in design, construction, and operation of waste management infrastructure to  support authorities, municipalities, organisations, and businesses in formulating strategies and achieving their environmental goals
Mepex website
This report describes a battery of sector-specific circular interventions that have the potential to significantly transform the Norwegian plastic system. The urgency for action is underlined by how even the most ambitious pathway falls short of Norway's 2030 climate target. It is now imperative for makers, users and regulators to collaborate to convert these insights into action!

Elin Hansen

Head of Circular Economy, ZERO
Plastic is a fantastic material as its properties provide important possibilities of use. But plastic is also one of the biggest consumers of virgin fossil materials and a significant source of GHG emissions. High use combined with low reuse and recycling rates has created waste problems harming nature and wildlife. It simply cannot continue. Our members in the trade and service industry are committed to reducing the use of all unnecessary plastic and making plastic reusable and easy to recycle. Knowledge and cooperation are key to success. This report is an excellent example of both, and we hope its insights will be used by many.

Tord Dale

Head of Sustainability, Federation of Norwergian Enterprises (Virke)
Significant amounts of plastic are accumulating in the Norwegian building stock. Given the long lifetimes of plastics in buildings, the failure to implement circular solutions today will result in the Norwegian plastics system being unable to cope with the large volumes of waste for decades to come. Circularity solutions are within reach and this report provides a roadmap to implementation, detailing where the opportunities lie to transform the system.

Guro Hauge

Director Sustainability & Social Policy, The Federation of Norwegian Construction Industries (BNL)
The textiles industry is working towards higher levels of circularity and reducing emissions throughout its value chains. The "Accelerating Circularity" report helps all stakeholders to better understand opportunities and challenges on this path. I encourage the entire industry to closely collaborate, within the sector and with other actors across the value chain, to truly advance to a sustainable plastics economy.

Linda Refvik

CEO, NF&TA
It is clear the Norwegian Plastic System has to become more sustainable and less dependent on virgin materials. Circular design and circular business models will be key for companies to succeed in the future, and this report outlines the path to achieve this. I call on the Norwegian Electrical Industry to follow these recommendations.

Frank Jaegtnes

CEO, Elektroforeningen (EFO)
We need to acknowledge that the seafood industry contributes to a large amount of plastic use and marine plastic pollution - making our industry a significant contributor to marine waste along our shores. NCE Seafood Innovation believes that collaboration and knowledge sharing around industry challenges are essential to address our responsibility and tackle issues effectively. This report provides a solid foundation for action and offers findings and guidance that can help us improve and lead the way to a more circular plastic economy, for both the aquaculture and fishery industry, in Norway. We endorse this contribution.

Nina Strangeland

Managing Director, The Seafood Innovation Cluster
Expert Panel
This work was developed together with a panel of 16 Norwegian experts with diverse backgrounds and perspectives. We would like to thank them for their insights, contributions and support.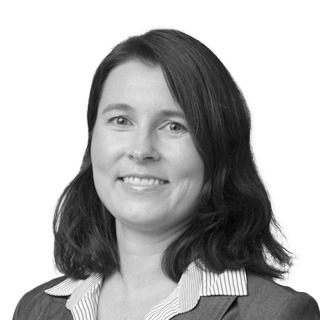 Marketing & Communications Manager
RENAS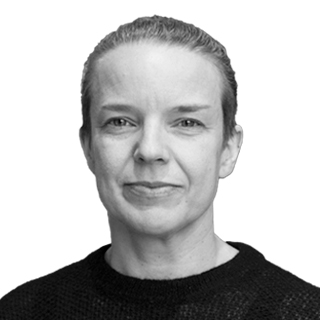 Material Flow Expert
Swedish Environmental Protection Agency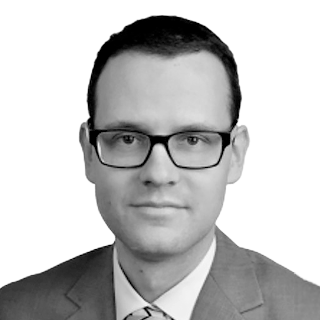 Research Scientist
SINTEF Industry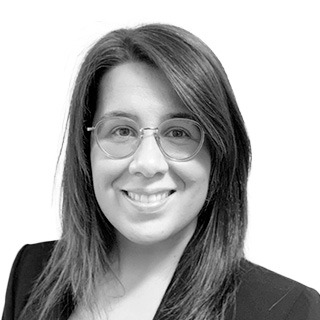 Elisabete Fernandes Reia da Costa
Research Scientist
SINTEF Industry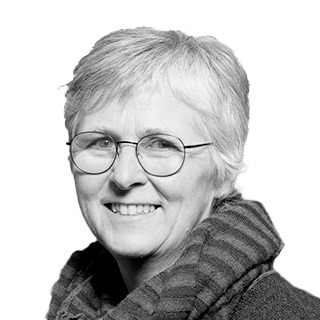 Former Senior Environmental advisor
Nordic Ecolabelling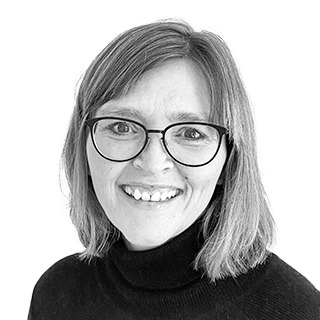 Chief Sustainability Officer / PhD
ScaleAQ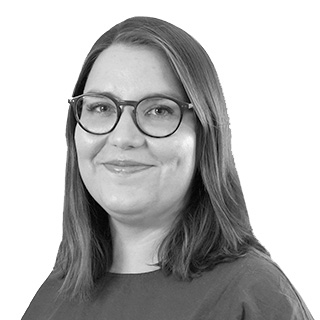 Research Scientist
SINTEF Manufacturing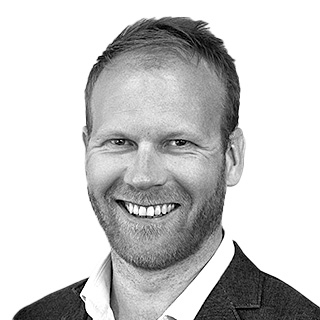 Downstream Manager
Revac
Board Member
BIR Plastic Committee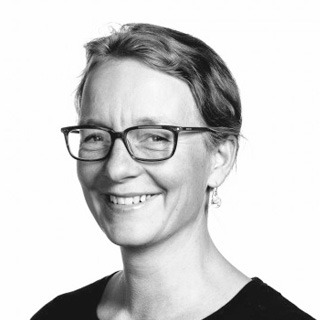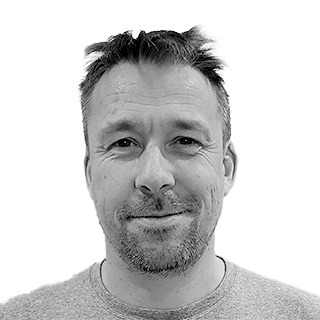 Operations Manager
Bilgjenvinning AS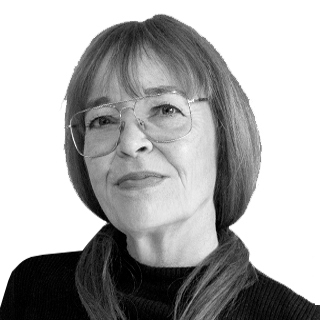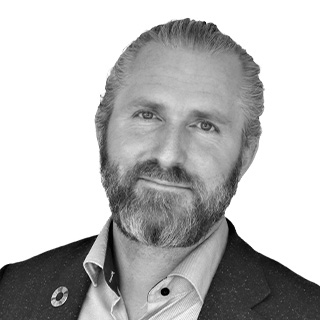 Director of Sustainability and Social Responsibility
Norner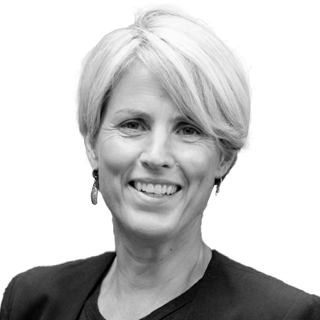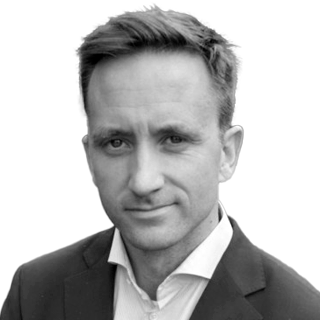 International Relations Officer
European Commission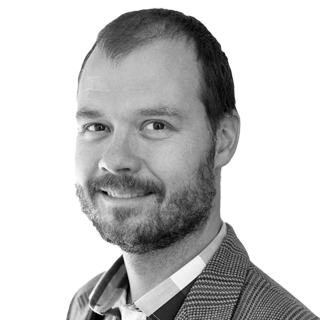 Head of Development
Grønt Punkt Norge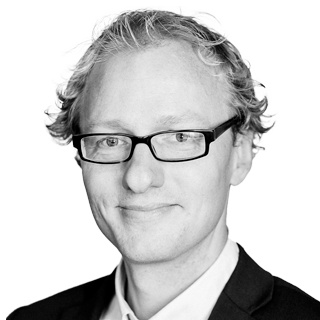 Systemiq
Yoni Shiran, Lead Partner
Ben Dixon, Partner
Peter Goult, Project Director
Marloes van der Meer, Project Manager
Alexandre Kremer, Project Manager, Study 1
Andrea Bath, Associate
Hannah Maral, Associate
Jamie Harrison Grundy, Associate
Trishla Shah, Associate
Xavier Laguarta, Associate
Andreas Wagner, GHG Expert
Ulrike Stein, Communications Lead
Handelens Miljøfond
Lars Brede Johansen, COO
Sjur Kvifte Nesheim, Analyst
Hanne M. Hjelmungen Lorvik, Communications Advisor
Mepex
Frode Syversen, Mepex Managing Director
Miriam Mekki, Project Manager
Carl Frederik Mørch-Kontny, Analyst
Simen Randby, Analyst
Espen Mikkelborg, Analyst
Sølvi Rønnekleiv Haugedal, Analyst
Kristiane Rabben, Analyst
Contributors
We would also like thank the following people who have generously contributed their time and expertise to the report:
Anne Slaaen: CEO and Creative Director Team Kameleon AS
Evelyn Luna Victoria: Oceans Senior Manager, WWF
Justin Greenaway: Commercial Manager, Sweeep Kuusakoski Ltd
Mike Muskett: Independent Consultant
Nadia Balducci: Clean Oceans Specialist, WWF
Paritosh Deshpande: Associate Professor, Norwegian University of Science and Technology (NTNU)
Pascal Leroy: Director General of the WEEE Forum
REV Ocean
Sarah Downes: External Affairs Manager, REPIC
Tim Huntington: General Manager Poseidon Aquatic Resource Management Ltd
Plastic has been a key enabler of economic growth across many sectors in Norway.
Its affordability, low density, and durability paved the way for plastic to become the material of choice in a wide range of applications, from food packaging to industrial cables to fishing nets. It is this diversity of application that has led to the ubiquity of plastics.
However, the rise in plastic consumption has come at a high cost to both the environment and society and is now incompatible with Norway's ambitions to achieve circularity and meet key climate targets. Today there is an urgent need for Norway to steer its plastic system off the unsustainable trajectory it is currently on, and towards a highly circular, low-emissions, resource efficient pathway.
This Synthesis Report provides seven key insights on the transformation of the Norwegian plastic system.
It is a summary of the two studies in this series: "Achieving Circularity for Single-Use Plastics" and "Achieving Circularity for Durable Plastics". The former focuses on consumable applications of plastics, herein referred to as 'Consumables', while the latter focuses on durable plastic applications. Together, the seven sectors analysed in these two studies cover ~80% (~710,000 tonnes) of Norway's plastic consumption (Exhibit 2) and around two thirds (~500,000 tonnes) of its waste generation, providing the most comprehensive view of the Norwegian plastic system available to date.b
b All references to plastic in this report refer to plastic applications within these seven sectors alone, unless otherwise specified. Estimated waste numbers are higher than in previously reported studies due to a combination of increased consumption, and a deeper assessment of both the five durable sectors in scope of Part 2 and the "other" categories.​
The seven sectors analysed in this study account for 80% of total plastic demand in Norway in 2021​
Composition of the Norwegian plastics market by sector (kt) ​
The fact that Norway imports most of its plastic and plastic products, and exports over a third of its plastic waste, has implications for how to assess both the impacts of the current plastic system and any prospective strategies, and was therefore considered across the key findings. Even though collaboration with other Nordic states and the EU will be key to defining future plastic solutions, this also poses a key question in terms of the extent to which Norway can domesticate its plastic value chain versus focusing on driving change abroad.
The analyses synthesised in this report rely on a stock-and-flow model, based on the approach used in the 2020 "Breaking the Plastic Wave" report, adjusted to the Norwegian context and extended to include all the sectors shown in Exhibit 2.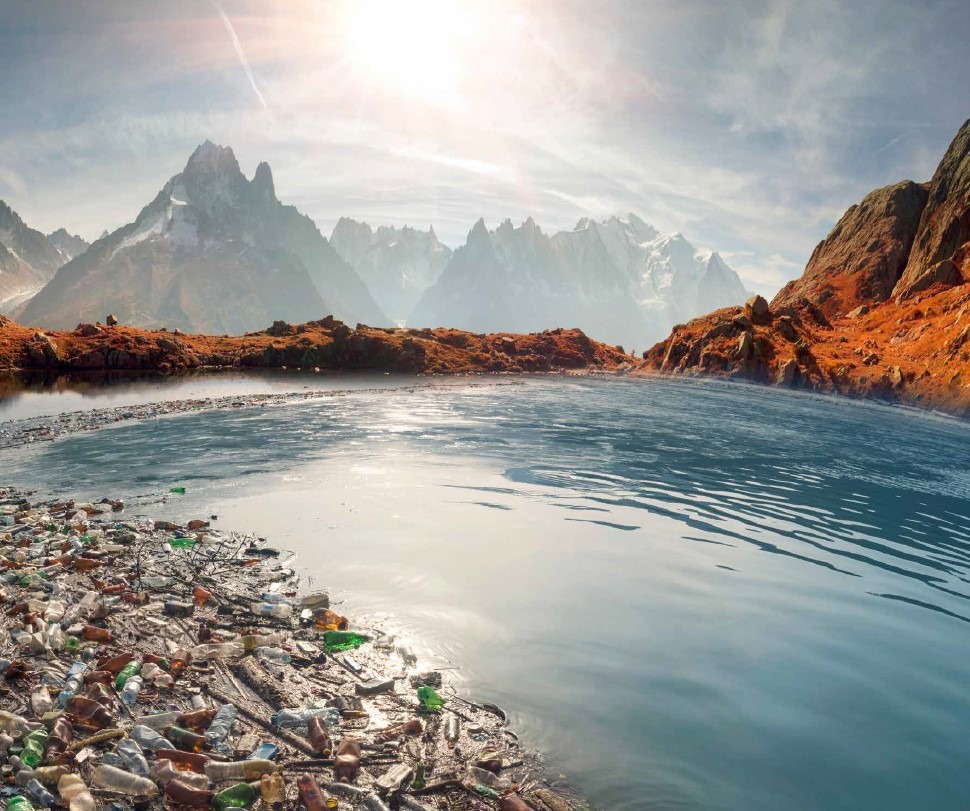 The model quantifies stocks and flows, and the relationship between them, under three different scenarios:
a Baseline Scenario, in which current trends are projected out;
a System Change Scenario, in which circularity interventions are ambitiously applied across all sectors and over the full value chain; and
a Net-Zero Scenario, in which greenhouse gas (GHG) emissions abatement measures are modelled on top of the System Change Scenario.
As well as the volumetric analysis, additional layers have been modelled to estimate the economic, climate and employment implications of different interventions and scenarios.c
cThe numbers included in this study are modelled outputs, accurately represented from our model, which could be perceived as false precision. It is important to emphasise that these are scenario outputs, not forecasts, and therefore there is a margin of error. Additional information about the analysis and underlying assumptions can be found in the technical reports accompanying each study in the series. ​